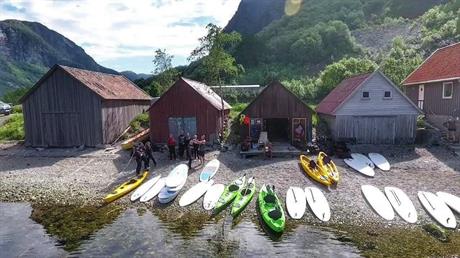 Frafjord Sup tours and waterfall hikes
Situated only a 40 minute drive from Jæren is the magical and magestic Frafjord and Månafossen.
Together with our partner at Frafjord Sup & kayak center we can offer a full days activities that you will never forget.
We can pick you up at any Bus/train station, Hotel or even from your home. Drive you up through the beautiful mountains of Rogolands fylke Gjestdal, Through The tunnel and out into the breathtaking Fjord Frafjord. Here we will gear up in wetsuits and lifesvest, and with a short safty and introdution into Sup paddling we will paddle out into the fjord to take in every ounce of the magical views, waterfalls and even a few rock jumps if you brave enough there is to offer. After a few hours we paddle back to dry land where we will change and Drive 10 minutes up through the fjord to Månafosen. Only a 15-25 minute respectful hike we will come to a opening in the trees on the path where you will be welcomed by one of the ereas most spectaculer and stunning falls in southern Norway. Here we will take a break for a coffee and Photos and simply soak in the beauty. From here you can choose to take the extra 20 minute hike around the valleys edge to the other side of the falls to witness it from directly above. Or we can relax at a view point of your choice. 
From here we will drive back down to the beach at the Sup center for a swim, Jump of the pier and or relax befor we drive home.
Tour estimation is about 6-7 hours from pick up to return. But can be longer if you wish to fish and BBQ at frafjord.
Including coffee and Sup/wetsuit rental
Prices from 1200 nok per person (max 2) 
call 41323432 for all booking and info.
April - September
We have no controle over the weather so bring suitable clothing and water.